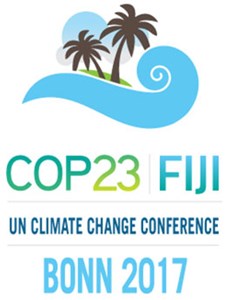 The 23rd session of the Conference of the Parties (COP23) to the United Nations Framework Convention on Climate Change (UNFCCC) took place in Bonn, under the Presidency of Fiji, between Monday 6 November and Friday 17 November 2017.
At COP23 Governments met to advance the implementation of the Paris Agreement. The focus was on the development of guidelines on how the Paris Agreement's provisions will be implemented across a wide range of issues including transparency, adaptation, emission reductions, provision of finance, capacity-building and technology. For more information about the conference, see: http://newsroom.unfccc.int/cop23bonninformationhub/
The Global Fuel Economy Initiative was in attendance to provide an update on our commitments to support governments to implement policies that will reduce CO2 emissions from vehicles, as part of our '100 for 50by50' campaign. GFEI is also expanding our focus to support efforts to improve the fuel consumption of HDVs, and integrate EVs into vehicle fuel economy policy frameworks.
GFEI participated in the Thematic Day on Transport on Saturday November 11th, as well as raising awareness through a series of other meetings and presentations, including side events on Friday 10th November.