GFEI urges action for SIDS on World Environment Day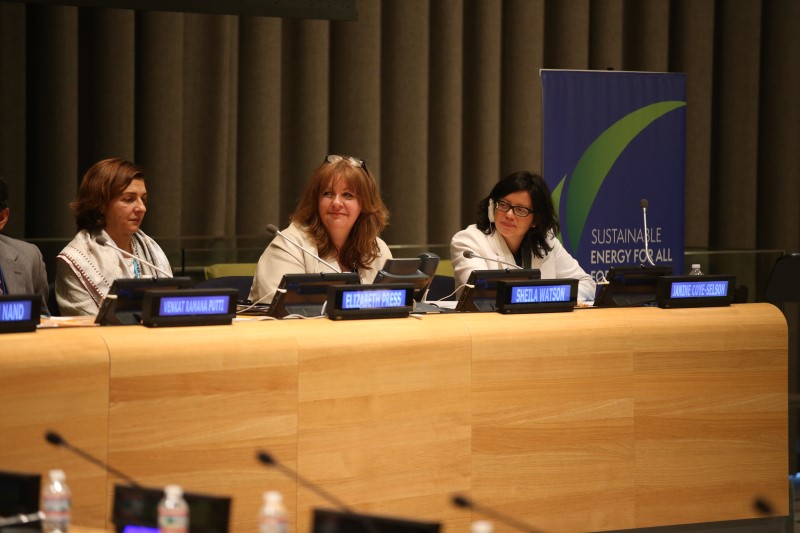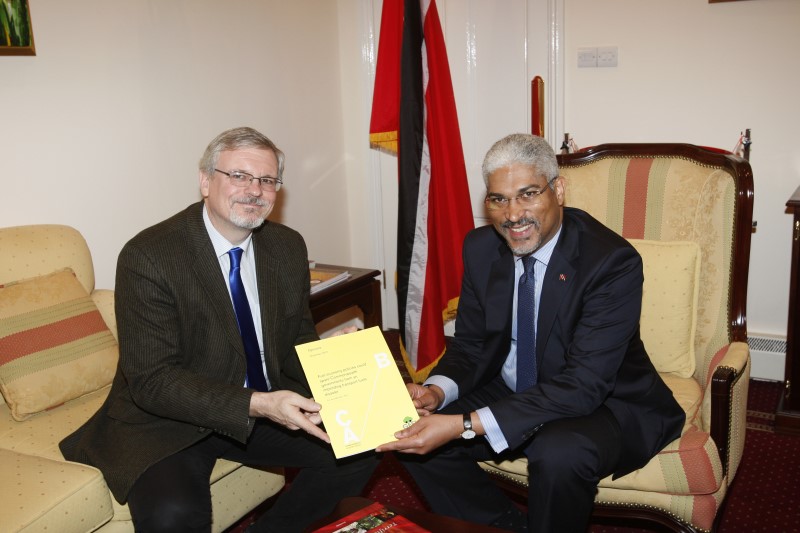 The GFEI is working with SIDS on fuel economy. Lew Fulton of GFEI partner UC Davis briefs Trinidad and Tobago High Commissioner Garvin Nicholas
Watch Sheila Watson's World Environment Day presentation at the UN.
Improving fuel economy is an "urgent priority" for Small Island Developing States, GFEI Executive Secretary Sheila Watson told the United Nations on World Environment Day, 5 June 2014.
The Global Fuel Economy Initiative was participating in the high level Sustainable Energy for All (SE4ALL) Forum at UN headquarters in New York. Sheila Watson, who is also FIA Foundation Director of Environment and Research, was speaking on a special panel for World Environment Day. It was the second GFEI presentation to the Forum following the high level session on energy efficiency the previous day.
The World Environment Day session focussed on Small Island Developing States which are particularly vulnerable to climate change and face pressing sustainable development concerns such as unsustainable consumption, degradation of natural resources, and extreme natural disasters in the midst of overpopulation and continuing industrialisation.
A new report by the UNEP says that climate change-induced sea-level rise in the world's 52 small island nations – estimated to be up to four times the global average – continues to be the most pressing threat to their environment and socio-economic development; with annual losses at the trillions of dollars due to increased vulnerability.
Speaking at the UN, Sheila Watson called for a focus on energy efficiency and fuel economy for SIDS: "The GFEI is working with a range of SIDS on fuel economy. Our recent meeting for Caribbean states concluded that the potential benefits of improved fuel economy for SIDS are so substantial that the issue should be a priority for SIDS objectives on sustainable consumption and production. Energy efficiency and fuel economy are integral to sustainable development. We cannot afford to waste resources and we need to accelerate fuel economy improvements in markets outside of the OECD where most of the new cars will actually be bought and driven."
In her presentation, Sheila Watson highlighted a range of fuel economy policies which are needed including: consumer information; price signals; fuel economy standards, regulating vehicle imports, and other fiscal measures. Such policies are in place – in the main in OECD countries , where the efficiency of vehicles is improving at an unprecedented rate of almost 3% per year. It is, however outside the OECD where further improvements are urgently needed.
The GFEI has been working with countries like Mauritius which has developed and implemented a "CO2 tax" on new vehicles. Consumers pay a charge when they buy a vehicle which emits above a CO2 threshold of 158 CO2 grams per km - which was the average CO2 emission of new vehicles imported into Mauritius in 2010. They get a rebate if they buy a vehicle which emits less than that threshold, and the system should be in balance. This is a 'feebate' and is one of many policy options which GFEI shares through its toolkit, and which countries can deploy.
Regionally, the GFEI Caribbean conference concluded that the potential benefits of improved fuel economy for SIDs are so substantial, that it should be included as an area of consideration for the proposed SIDS Specific Platform on Sustainable Consumption and Production.
This agenda will be taken forward at the UN Secretary General's Climate Summit in September 2014. At this key global environment event a group of countries working with key companies in the sector, will commit to the GFEI targets sending a powerful message to set in motion a trend toward a global doubling of fuel economy.
SIDS are a priority for the UN which will hold the International Conference on the Small Island Developing States, in Apia, Samoa from 1 to 4 September.
Also speaking on World Environment Day, UN Secretary General Ban Ki-moon highlighted the SIDS priority. "Small island nations share a common understanding that we need to set our planet on a sustainable path," said the Secretary-General, explaining that reaching that goal demands the engagement of all sectors of society in all countries.
"This year, I urge everyone to think about the plight of Small Island Developing States (SIDS) and to take inspiration from their efforts to address climate change, strengthen resilience and work for a sustainable future," said the UN chief. "Raise your voice, not the sea level."
Small island nations suffer disproportionately from the effects of climate change owing to their small size, remote locations, and limited economic resilience. Research shows that by 2100, global warming could lead to a sea-level rise of up to 2 meters, making many of these island States, especially in the Pacific region, uninhabitable.