GFEI briefs UN Secretary General at global Climate Conference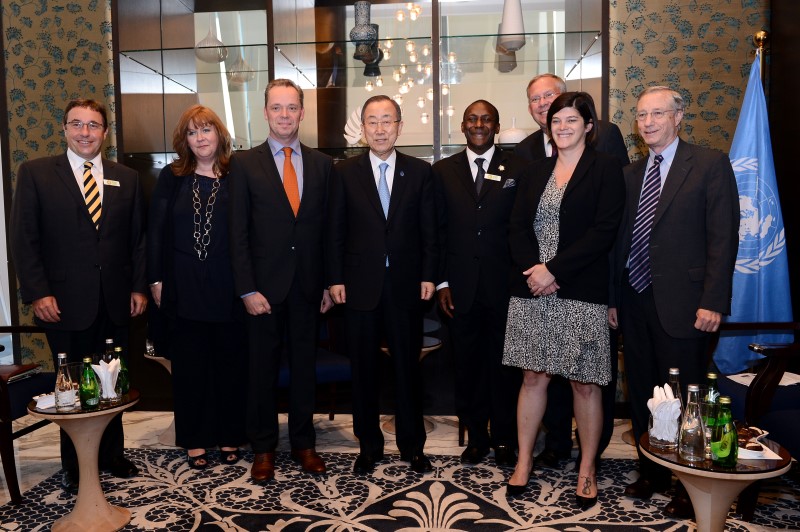 The Global Fuel Economy Initiative is playing a key role in high level discussions on Energy Efficiency as part of preparations under way in Abu Dhabi for the UN's Climate Summit later in 2014.
The GFEI briefed UN Secretary General Ban Ki-moon on vehicle fuel economy in a bilateral meeting on 5 May 2014. Sheila Watson Executive Secretary of the GFEI and FIA Foundation Director of Environment participated in the Abu Dhabi Ascent Conference and met Ban Ki-moon.
The GFEI was one of a group of key stakeholders consulted by the UN Secretary General on global efforts to address climate change ahead of the UN's September 2014 Summit. Key participants included UN Environment Programme Executive Director Achim Steiner, Kandeh Yumkella Chairman of UN Energy, and environment advocate and philanthropist Al Gore.
 
Speaking at the Ascent Conference, Sheila Watson urged Governments and the private sector to address fuel economy. "We know that cost effective technical solutions exist, and we are sharing the best practice in policy. And now we need to match political will of many more countries who want to save these resources, with the greater engagement of the private sector which will invest a staggering $400 trillion in fuels and vehicles between now and 2050," she told the audience at the conference which included Tony Blair, Al Gore and leading policy makers.  
"If we can harness the power of this investment opportunity, we can help to save CO2, clean up our air, and free up badly needed resources for better uses in health, education and so on in some of the poorest countries on the planet." In her address to the conference session on Energy Efficiency, Sheila Watson announced that the French Government had agreed to host a follow up meeting on global fuel economy in July ahead of the September UN Climate Change Conference.
In both the UN's Climate Summit agenda and its 'Sustainable Energy for All' initiative there is strong recognition of the need for a transformation in how the world uses energy. With rapid development across many world regions, and particularly with the forecast dramatic increase in motorisation, a new approach to energy use in vehicles will become ever more critical.
Sustainable energy, and particularly a target to double energy efficiency worldwide, will be absolutely vital. And the need for progress on energy efficiency is particularly crucial in the transport sector. With huge and unprecedented growth in the global vehicle fleet across middle- and low-income countries over the coming decades, the need to address fuel economy worldwide is becoming ever more important. 
The global vehicle fleet is predicted to triple between now and 2050, with most -80% - of that expansion in developing countries. Increasingly, the Global Fuel Economy Initiative (GFEI) has been addressing what threatens to be a fuel economy crisis for the developing world, if no action is taken.
GFEI is part of SE4ALL as a 'High Impact Opportunity' and is its leading initiative on fuel economy. GFEI is also a key member of the Partnership on Sustainable Low Carbon Transport (SloCAT).
The GFEI wants to see global new car fuel consumption cut by 50% by 2030 compared to 2005 levels, and the same reduction across the whole fleet by 2050. Such a move would save over 6 billion barrels of oil per year by 2050, and close to half of CO2 emissions from cars, as well as generate significant local air pollution benefits - and all using existing, cost-effective technologies.
As we move towards the new, post-2015 era of the Sustainable Development Goals, we must find a way to reconcile the legitimate aspirations for mobility – which of course are a key part of economic transformation – with an ambitious reduction in fuel use and CO2 from vehicles.