Bonn Climate Conference discusses fuel economy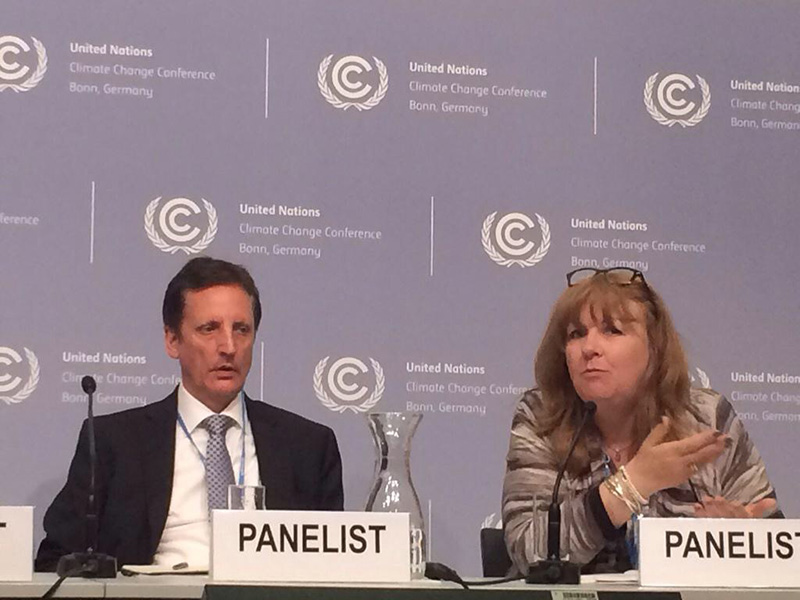 Over 190 parties to the global climate action framework hosted by the UNFCCC gathered in Bonn last week to discuss and agree a draft text for this year's COP21 gathering in Paris.
The climate conference also hosts several other key meetings of this process, including a Technical Experts Group on the issues around energy efficiency and urban transport. Sheila Watson, Director of Environment and Research addressed this meeting about the potential benefits of improved fuel efficiency in urban areas, and the role of GFEI in securing those benefits.
Others who addressed the same meeting included Mr Isbrand Ho of BYD, who spoke about his company's commitment to electric vehicles; Lorina Darmastuti of the city of Bogor in Indonesia, who described changes in the bus services there; and Andreas Kopp of the World Bank, who outlined the need for modal shift in future patterns of urban mobility.
With a global fleet set to triple by 2050, the vast majority of the new vehicles outside of the OECD, and in urban areas, the need to address the impact on energy security, air quality and the climate of obvious. The potential benefits of energy efficiency are huge. Within light duty vehicles alone $2 trillion net could be saved by 2025 just be adhering to the GFEI's suggested path of integrating costs effective technologies into all new vehicles. Those savings could free up enough resources to cover what the IEA has estimated is needed to support the growth of electric vehicles five-fold.
Speaking at the meeting, Sheila Watson said 'the great joy of improved fuel efficiency is that it can be addressed at any level – urban, national and regional – whilst it's multiple benefits accrue at every level too. Clean air is a hugely significant urban issue, and reduced fuel use can help with that. We have the technologies to realise these gains. We need the political commitment to get those technologies into our vehicles. GFEI is intensely practical. We work to support countries as they grapple with this issue, for example by sharing best practice. We want to engage with 100 countries on fuel economy as part of the COP21 process. Please join us in this work, and realise these gains for your people.'
View Sheila Watson's presentation
Download the '100 Countries Supporting Improved Fuel Economy' leaflet