IRF Caribbean Congress hears call for walking and cycling investment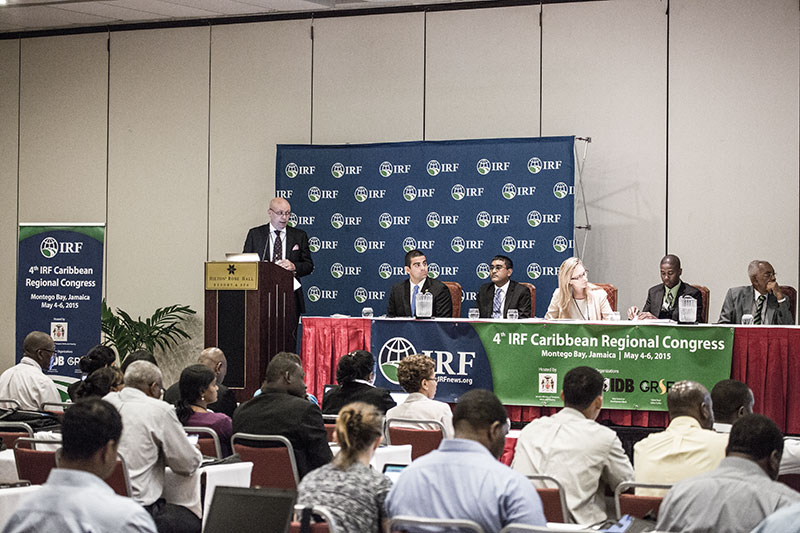 New tools to encourage walking and cycling have been presented at the IRF Caribbean Congress by the FIA Foundation and the UN Environment Programme.
The International Road Federation (IRF) held its 4th Caribbean annual Congress in Jamaica on May 4th-6th 2015. The theme of the conference was 'safe, smart, sustainable' transport, and included a focus on vulnerable road users and the UN Decade of Action for Road Safety.
Liana Vetch, coordinator of the FIA Foundation-funded 'Share the Road' programme led by the UN Environment Programme (UNEP), joined the opening plenary discussion and led a capacity building session. She highlighted how pedestrians and cyclists represent 27% of road traffic deaths globally, as reported by the Global Status Report on the UN Decade of Action for Road Safety (2013), and that many countries lack adequate policy frameworks for Non-Motorised Transport (NMT). Share the Road has developed a new NMT Project Appraisal Tool ('PAT NMT'), designed with the University of Cape Town, to support countries and donors in appraising the multiple health, environment, and social benefits of investing in NMT infrastructure.
Other presentations at the event also highlighted efforts to increase non-motorised transport investment in the Caribbean. The Caribbean Development Bank shared its experiences of working closely with the International Road Assessment Programme (iRAP) in Barbados and Belize to conduct infrastructure assessments. It concluded that there is a need for a multi-sectoral approach to road safety, as well as for investments to be systematically ring-fenced to ensure sustainability of measures and impacts. In Belize, the Ministry of Finance and Economic Development (MFED) now plans a 2016 vision on road safety which will include non-motorized transport infrastructure assessment and upgrades.