Secretary General calls for urgent Climate Action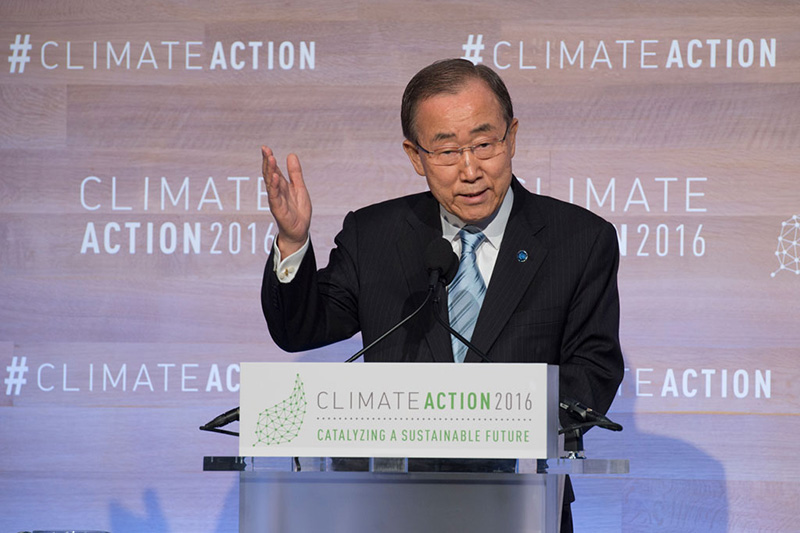 Nearly 700 leaders from business, cities, philanthropy, multilateral institutions and civil society met in Washington D.C. from 4-5 May for Climate Action 2016, a high-level multi-stakeholder climate summit seeking to accelerate global action on climate change.
Ban Ki-moon, Secretary-General of the United Nations, addressed the event, stating that "urgent action is critical for meeting the climate challenge and building a clean energy, climate-resilient future". He called for all countries to join the Paris Agreement as soon as possible, and for all sectors of society to take action now to reduce harmful emissions. The conference particularly focused on six 'high-value areas of multi-stakeholder partnership': sustainable energy; sustainable land-use; cities; transport; and tools for decision-making. GFEI's work cuts across many of these, including energy, cities, transport and tools for decision making.
At the Conference, the World Bank announced 'Sustainable Mobility for All', which World Bank President Kim described as "the main principles for a plan to transform the world's transport systems… it means moving people and goods in an accessible, efficient and safe way to help cut poverty, cut emissions and increase resilience to a changing climate."
Other participants included Ségolène Royal, French Minister of Ecology, Sustainable Development and Energy, and host of COP21, and Al Gore, the former Vice-President of the United States, and environmentalist. The Summit included sessions exploring the roles of the public and private sectors in helping deliver sustainable mobility. The Global Fuel Economy Initiative provides support and capacity building to governments to implement fuel economy policies to cut emissions from vehicles. Gina McCarthy, Administrator at the United States EPA (Environmental Protection Agency), told the summit that "CO2 standards for vehicles are very elegant tools" and promised that "the US will deliver" on its commitments to reduce emissions.