Transport and energy experts discuss sustainable mobility in COP22 EU Pavilion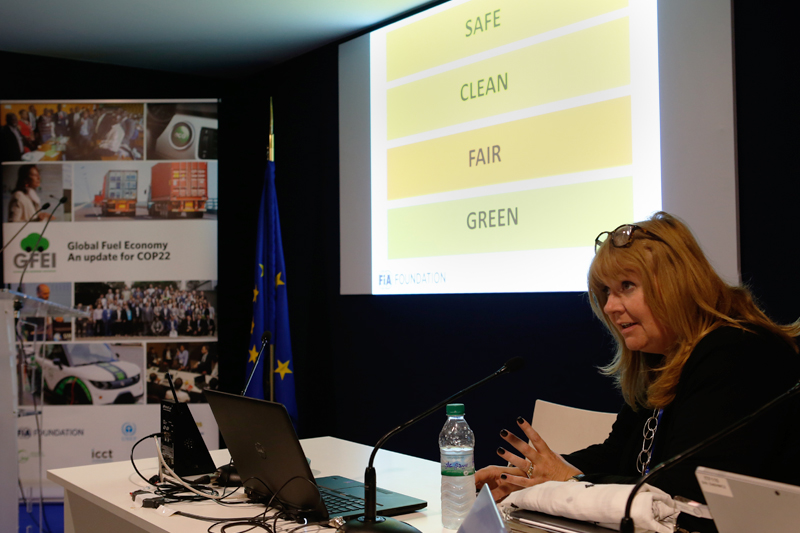 On Saturday 12th November in the EU pavilion at COP22, leading transport experts met to share experiences of supporting projects that make a real difference to people's lives, helping them move around cities in a clean and low carbon way, saving money and reducing air pollution.
The series of presentations included detailed modelling about future transport emissions from the IEA, and the potential for car-sharing technology to reduce congestion and emissions. GFEI partners the FIA Foundation, International Energy Agency, International Transport Forum, and UC Davis participated in the event as well as the Wuppertal Institute and the World Resources Institute.
Sheila Watson's presentation (pictured above) highlighted GFEI's in-country capacity building work, including toolkit and modelling tools that help governments understand and introduce the most appropriate fuel economy policies for their own context. She also shared the FIA Foundation's other major initiatives around safe routes to school for children, and focus on women's security on public transport. In this way the climate change discussions continued to build on the conclusions of the New Urban Agenda which was agreed in Quito.
Holger Dalkmann from the World Resources Institute set out the potential disruption that new technology-based transport business models may cause for conventional urban transit, as well as highlighting the potential social transformation that improved urban transport planning can bring. He shared examples of how special cycling days in developing country cities are encouraging people to consider alternative modes of transport and think more about when they use cars.
On Monday 14th November, GFEI again participated in a side event in the EU Pavilion – this time as part of EU energy day. As part of Sustainable Energy for All, Sheila Watson shared the experiences of Mauritius in introducing fuel economy policies. In the panel, on Energy for Islands, she highlighted the potential of using fiscal measures to incentivise the importation of cleaner, more efficient, vehicles.

See the 'Mitigating climate change through sustainable urban mobility' presentation here.

See the 'The Global Fuel Economy Initiative (GFEI) a case study from Mauritius' presentation here.