Regional Caribbean meeting on fuel economy policies held in Jamaica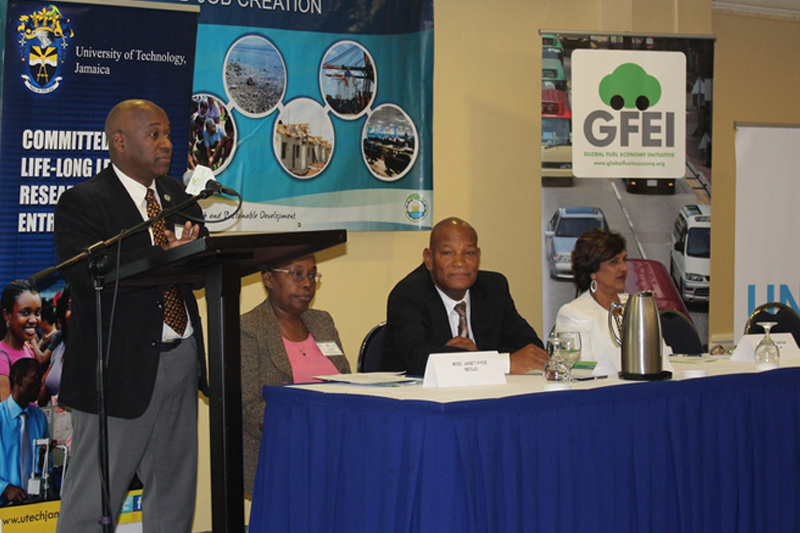 The Global Fuel Economy Initiative hosted an important regional conference in Jamaica in December 2018 to share progress on Jamaica's fuel economy policies, and agree roadmap for cleaner, more efficient vehicles across the Caribbean region.
The two-day event brought together representatives from Antigua & Barbuda, Barbados, Belize, Bermuda, Dominican Republic, Grenada, Haiti, Jamaica, St. Kitts & Nevis, St. Lucia, St. Vincent & the Grenadines, Trinidad & Tobago and Turks & Caicos.
The GFEI Jamaica Project is being implemented by the University of Technology (UTECH) in collaboration with the Ministry of Economic Growth and Job Creation. The overarching objective is to create an enabling environment that will support the development and implementation of cleaner and more efficient fuel and vehicle policies.
Speaking at the event, Senior Director in the Environment and Risk Management Division of the Economic Growth and Job Creation Ministry, Gillian Guthrie, several outcomes have emerged from Jamaica's implementation of the project.
"We are really hoping to achieve an improvement (in vehicle fuel efficiency) in Jamaica," she said. "We also want consumers to be aware (and make) informed decisions in terms of purchasing vehicle, and we also want to drive the improvement in fuel quality. This is all towards reducing air pollution (and) reducing our greenhouse gases emissions." 
Associate Vice President of Sustainable Development at UTECH and Project Manager of the GFEI Project in Jamaica, Dr. Ruth Potopsingh, said a national working group has been formed to engage stakeholders.
"We have been working with a number of government agencies… [such as] the Ministry of Transport and Mining, the Ministry with responsibility for energy and the Ministry of Economic Growth and Job Creation," she said.
Other speakers at the opening ceremony of the conference included Head of the United Nations Environment Caribbean Sub-Regional Office, Vincent Sweeney; and Energy Programme Manager at the CARICOM Secretariat, Dr. Devon Gardner. 
Presentations
Click on the links to read the documents:
- Cleaner and More Efficient Fuels and Vehicles for the Caribbean
- Ambient Air Quality Standards
- GFEI project overview – Utech Jamaica