Bangladesh starts process of developing fuel economy policies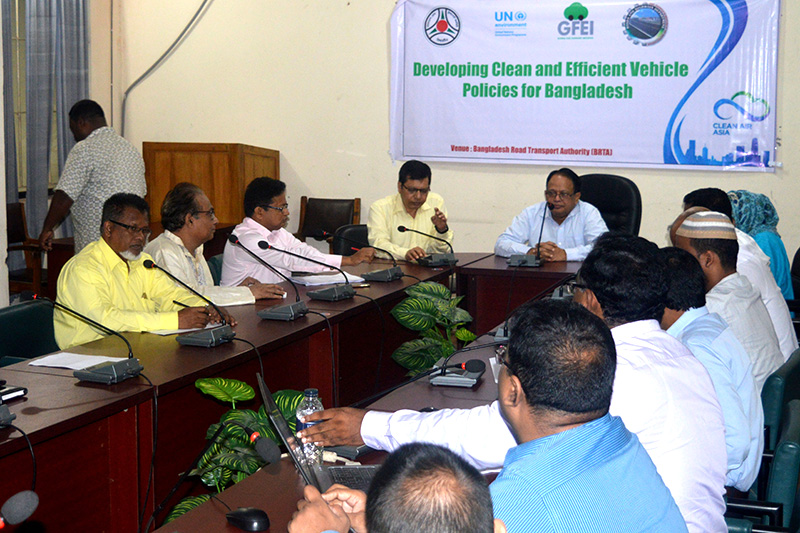 The Bangladesh Road Transport Authority (BRTA) has signalled its intention to develop appropriate policies and instruments to improve the average fuel economy of the national light-duty vehicle fleet. The scope and intended outcomes of the project were discussed at the first stakeholder meeting of the "Developing Clean and Efficient Vehicle Policies for Bangladesh" project on May 10.
The project, which is being implemented by the BRTA and Bangladesh's Roads and Highway Department (RHD) with support from the Global Fuel Economy Initiative (GFEI) through UN Environment and Clean Air Asia, is aimed at improving fuel economy in Bangladesh, reducing harmful gas emissions, and promoting a sustainable and environmentally friendly national vehicle policy. It aims to contribute to GFEI's target of improving the average fuel economy (litres/100km) for the global light-duty vehicle fleet by at least 50 percent by 2050 (the international campaign "50by50") and by 2030 for new vehicles.
The inaugural consultation, facilitated by BRTA Chair Moshiur Rahman, brought together representatives from the BRTA, RHD, Dhaka Bus Rapid Transit (Dhaka BRT), Department of Environment, Work for a Better Bangladesh Trust, Poribesh Bachao Andolon, and other stakeholder organizations.
Topics of discussion included differences over time in fuel economy and CO2 emissions in new and older vehicles in relation to engine and fuel types, policy development challenges and resolutions, the possible introduction of taxation based on vehicle model and engine capacity, and the transition from diesel and petrol engines.
Noor E-Alam from the RHD proposed the development of a policy favouring electric and hybrid vehicles given the current lack of a national registration framework, and recommended leapfrogging to Euro VI emission standards by 2025 instead of moving to Euro III by 2020 – initiatives that drew support from government officials.
The BRTA supported the updating of their vehicle database in support of the project, and expressed interest in including currently absent vehicle model data in the BRTA database through collecting information during annual vehicle fitness testing as well as new vehicle registrations.
At the conclusion of the meeting, Mr Rahman said in the future it was necessary to measure CO2 emissions yearly to assess the progress being made in achieving the desired 50 percent improvement in fuel economy, and to set limits on the number of vehicles in metropolitan areas.