Experts meet to discuss fuel economy policy in Ghana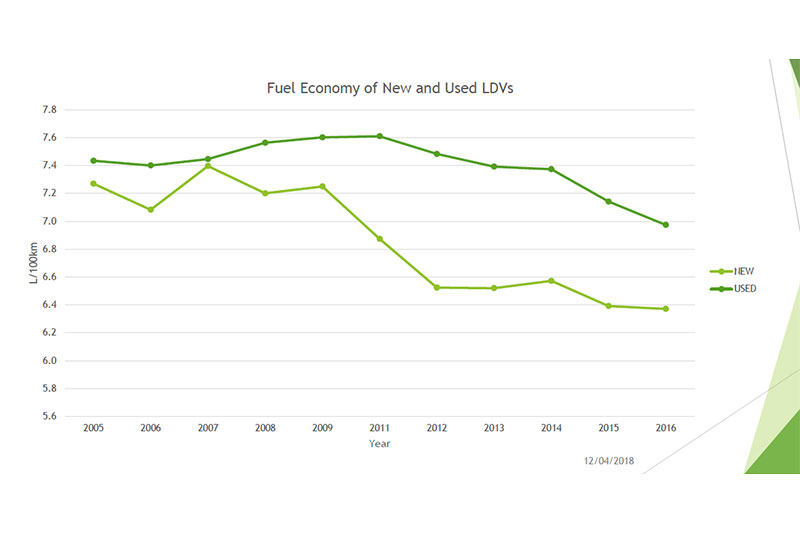 A national Global Fuel Economy Initiative (GFEI) workshop was held at the Institute of Environmental Studies in Amasaman, Ghana in January 2018. The aims were to disseminate a new vehicle inventory report and discuss potential policy strategies for fuel economy standards in Ghana.
The workshop provided a platform for learning and sharing experiences among experts and stakeholders from the transport, finance, energy, petroleum and environment sectors as well as from the media.
The Executive Director of the Ghana Environmental Protection Agency (EPA), Mr. Peter Sarkodie gave the welcome address and officially opened the workshop. The workshop reviewed the Ghana vehicle fleet and fuel economy baseline, as well as discussing fuel economy standards and a cost-benefit analysis of policy options.
Data from the Customs Division of the Ghana Revenue Authority (GRA) shows that vehicles in Ghana are imported (both new and used) mainly from Europe, Asia and North America. 66,036 vehicles were imported in the base year (2005), while 96,128, 98,621, 78,835 and 112,424 vehicles were imported in 2008, 2010, 2013 and 2016 respectively. This trend is expected to continue to increase unless action is taken.
The vehicle inventory report indicated that the national average fuel economy for Ghana has been improving from 2005 to 2016. This improvement appears to be mainly due to fuel economy progress made in OECD countries where average fuel consumption rates have been decreasing. The study proposed a series of options for regulatory, fiscal and labelling policies to improve vehicle fuel economy.
The workshop was attended by 57 participants drawn from the following organizations: African Refiners Association, Ghana Chamber of Bulk Oil Distributors, Ghana Daewoo Motors, Ghana Environmental Protection Agency, Ghana Health Service, Ghana Institute of Executive Studies, Ghana News Agency, Ghana Revenue Authority, Ghana Road Transport Coordinating Council, Ghana Standards Authority, Ghana TV3 Network Limited, Metro Mass Transport, Ministry of Education, Ministry of Environment, Science, Technology and Innovation, Ministry of Finance, Ministry of Trade & Industry, Ministry of Transport, National Road Safety Commission of Ghana, School of Public Health, University of Ghana, Toyota Ghana and UN Environment.
Presentation of fuel economy trends