GFEI workshop shares Argentina baseline and plans policies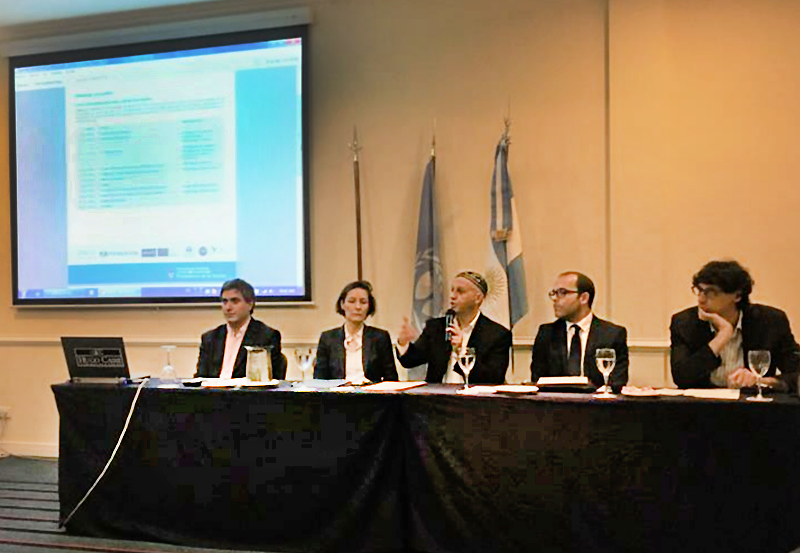 In May 2018, GFEI held a workshop in Buenos Aires to share the results of Argentina's first baseline analysis of the CO2 emissions and fuel efficiency of light duty vehicles registered in the country. GFEI has been working with the Secretary of Monitoring and Environmental Control, the Ministry of Environment and Social Development, and UN Environment in Argentina since 2017 to develop the baseline, along with key stakeholders such as the National Association of Car Manufactures (ADEFA). The baseline study was presented at a conference hosted by the Ministries of Transport and Energy which included more than 40 participants.
At the workshop Rabino Sergio Bergman, Minister of Environment and Sustainable Development, highlighted Argentina's international commitments and commitment to energy efficiency and the importance of dialogue between government and business. The Ambassador of the European Union, Aude Maio-Coliche praised the joint work between all the key stakeholders from the private and public sectors to combat the climate change problems; she mentioned GFEI as an important initiative committed to sharing experiences from around the world.
The Ministry of Energy stressed that improving fuel economy has multiple benefits, including both saving energy and protecting the environment, and it supports Argentina's international commitments to the Sustainable Development Goals and its Nationally Determined Contributions (NDC) for reducing carbon emissions. Energy efficiency is also compatible with job creation, including benefitting two small and medium-sized enterprises (SMEs) that are developing electric vehicles since Argentina's decree 32/2018 established new vehicle categories and a framework for type approval. 
The Ministry of Environment and Sustainable Development and the Association of Vehicle Manufacturers of Argentina (ADEFA) are working jointly to develop fuel efficiency labelling. A first step has already been taken, as the Ministry of Environment requires every new vehicle model to include a CO2 and energy consumption declaration. The discussions also highlighted the need to explore complementary policies to promote more efficient vehicles, such as recent trends towards the increasing weight and size of vehicles. The next steps for the GFEI project in Argentina are to develop a proposal of a fuel economy standard, including benefits estimation, which is critical for the negotiation with car manufacturers. The Ministry of Environment is also requesting that health benefits due to the introduction of cleaner and efficient Euro 6/VI vehicles are estimated.