GFEI at SE4ALL Forum in Lisbon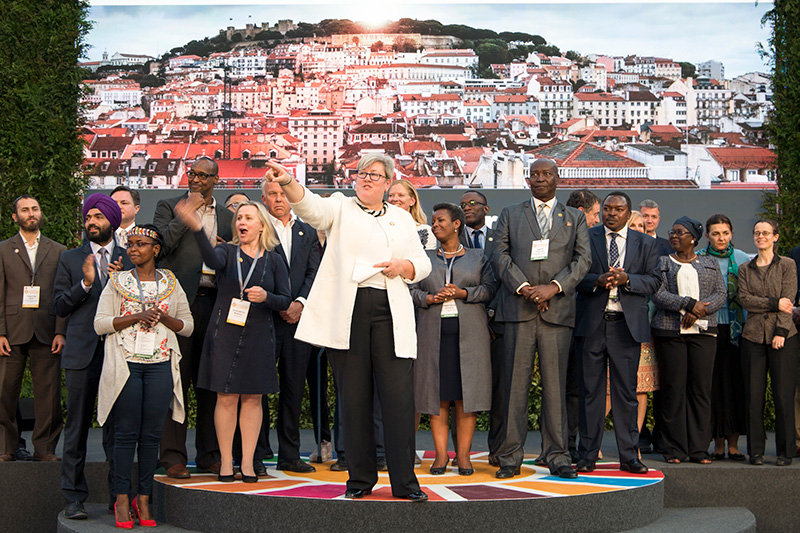 On Wednesday 2nd May, GFEI Executive Secretary Sheila Watson spoke at the Sustainable Energy for All Forum in Lisbon. The annual event is the landmark gathering celebrating innovation and action in the global sustainable energy movement, and drew energy experts and stakeholders from around the world.
The 2018 Forum, "Leaving No One Behind", took place at a pivotal juncture for accelerating progress on global sustainable energy goals — under Sustainable Development Goal (SDG) 7 — and the Paris Climate Agreement. In her opening remarks, Rachel Kyte, CEO of SEforALL, and Special Representative of the UN Secretary-General for Sustainable Energy for All, called on the Forum to take action: "The world has committed to leave no one behind. To keep this promise as we move through the energy transition, we need to think differently about how we deliver affordable, reliable and clean energy services."
Sheila Watson hosted a discussion entitled 'Green Transport: Vote for a Clean and Efficient Transport Future', which was co-hosted with REN21. The side-event explored the role of EVs – the most efficient vehicle option and yet their overall benefits will be reduced unless we have low carbon energy sources with which to fuel them. Other speakers included Laura Cozzi from GFEI partner the International Energy Agency. Sheila Watson emphasised that "policies that support the uptake of electric mobility only lead to fewer carbon and pollutant emissions if accompanied by renewable energy-based decarbonisation of the electricity sectors – sustainable mobility for all and sustainable energy for all must come together."
The event marked the launch of GFEI's new Working Paper 18, which sets out the role of plug-in electric vehicles in improving fuel economy, and how GFEI is integrating electric mobility in its activities.
REN21 and FIA Foundation will continue to discuss how to collectively present and push for a joint energy/transport conversation. Rana Adib from REN21 announced that transport and renewable energy will also be a working session at REN21's Renewables Academy in September.