Paraguay launches GFEI project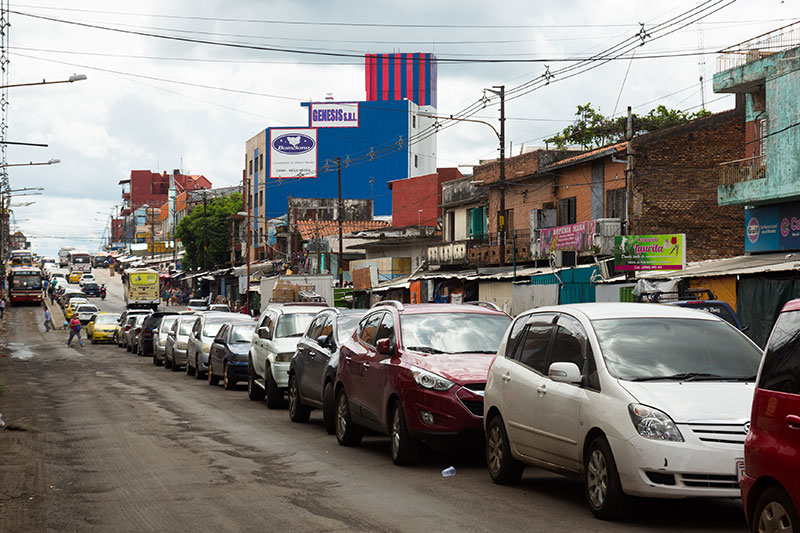 In August 2018, Paraguay's Ministry of Environment hosted a meeting in Asunción to launch the Global Fuel Economy Initiative (GFEI) in the country and discuss potential policies to reduce CO2 emissions from vehicles.
Around 60 people attended the launch workshop, including both public and private institutions, such as Petrobras, Petropar, the Chamber of Automotive Distributors, the Ministry of Industry and Commerce, representatives of Paraguayan Customs, Ministry of Transport and Ministry of Public Works. Public and Communications, in addition to the Inter-American Association of Sanitary and Environmental Engineering and other nongovernmental organizations such as GIZ.
GFEI is supporting Paraguay to develop a fuel economy baseline analysis that looks at all the new and used vehicles that are imported into the country. GFEI will also provide capacity building advice and training to help officials explore the different tax and incentive options to promote clean and efficient vehicles, based on this data.
Mr. Rafael Sosa, head of the General Directorate of Air, and Engineer Ulises Lovera, Director of Standardization of the Ministry of Environment and Sustainable Development, opened the meeting, together with a representative of the Commission for the Defense of Natural Resources (CONADERNA), Liduvina Vera. José Dallo, UN Environment's South American regional representative, introduced GFEI, and highlighted its aim to double vehicle efficiency by 2030, and the multiple benefits of fuel economy for climate and the environment. He also underlined the opportunities to apply to the Global Environment Facility (GEF) in its latest round, including the Global Electric Mobility Program. CONADERNA then shared a presentation on current bills, which making low sulphur gasoline available throughout the country and to regulate used vehicle imports to modify the permitted age.
Centro Mario Molina spoke about emission standards and technology and explained possible policies for cleaner and more efficient vehicles and fuels, such as the importance of having a fuel economy baseline for Paraguay in order to develop policies for improving vehicle emission standards. They highlighted 'feebate' tax incentives as a potential tool and underlined the importance of parallel progress in the improvement of fuels to allow the entry of cleaner technology.
Representatives of the Chamber of Automotive Distributors (CADAM), Luis Frutos and Diego Lovera, presented current regulations around new and used vehicles. Through Art. 1 of Law 4333/2011 used cars up to 10 years old are currently authorized to be imported. However every year older vehicles (up to 15 years) enter through appeals lodged before the Supreme Court of Justice by importing companies. In 2017, the import of 84% of the light duty vehicles that entered the country were used, and only 0.16% of imported vehicles were electric. They stated that the average age of vehicles in use was 18 years in 2016-2017 and that the number of vehicles that have approved the Technical Vehicle Inspection (ITV) is minimal, even though it is mandatory in Asunción and Luque.
Participants discussed the potential to introduce a Vehicle Type Approval program to verify and strengthen compliance with emissions standards, including developing an independent international laboratory. In the medium term a vehicle labelling program would help make visible the advantages of acquiring an efficient vehicle, give greater transparency and reliability to consumers and help support a more reliable and effective tax system to incentive more efficient vehicles. The GFEI program in Paraguay is working to finalise the baseline study and develop fuel economy policy options during 2019.