Latin America Workshop shares regional experiences to accelerate progress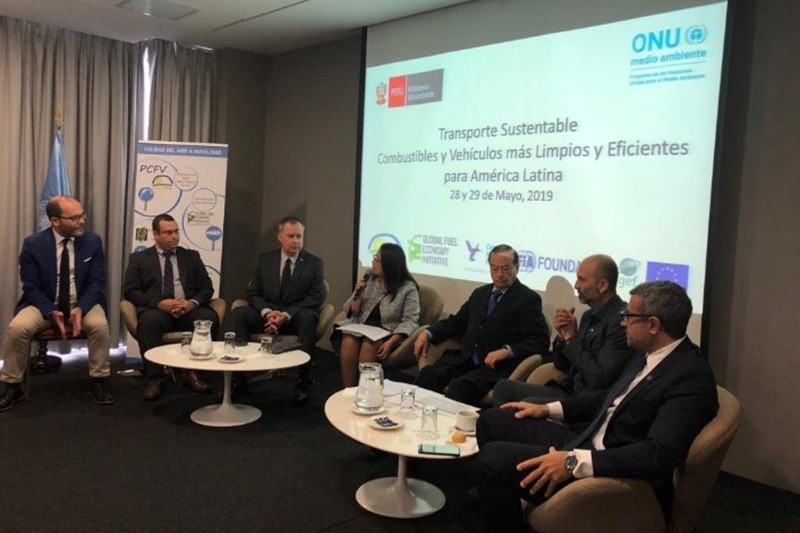 A two-day regional event was held in Lima, Peru on 28th and 29th May 2019, hosted by UN Environment and the Ministry of Environment of Peru.
The purpose of the event was to bring together countries from South and Central America to share experiences and knowledge from GFEI countries in the region, and discuss a roadmap for cleaner, more efficient vehicles across the Latin America region. The country experiences of GFEI national country projects have provided strong regional context from which other countries can leapfrog and develop strategies that will create high impact in their local environment.
There were representatives from 17 counties, including Argentina, Belize, Brazil, Chile, Costa Rica, Colombia, Dominican Republic, Guatemala, Honduras, Jamaica, Nicaragua, Panama, Paraguay, Peru, Uruguay. Regional bodies such as the Pan American Standards Commission, (COPANT) and the Central American Integration System (SICA).
It was agreed that a road map and integration were the first steps in moving towards transitioning the transport sector towards cleaner and more efficient fuels and vehicles in the region. The workshop provided a forum for forerunners in the region, such as Chile and Costa Rica to share experiences on their path to more efficient vehicles, including e-mobility. A recommendations report for the Latin America region was developed, and one of the major recommendations is promoting a shift to electric mobility. Other recommendations included the creation of harmonized vehicle efficiency labelling schemes, achieving improved fuel quality and developing regulations that would incentivize a shift to cleaner fuels and more efficient vehicles. The import of used vehicles and its impacts on energy, environment and safety is an issue for many countries in Central America and the Caribbean, as well as some in South America like Paraguay, that can be addressed with a regional commitment. The GFEI, together with other programmes that UNEP is a part of such as the PCFV and the CCAC, will continue to support countries at national and regional level in Latin America to address these issues.