Bangladesh shares fuel economy baseline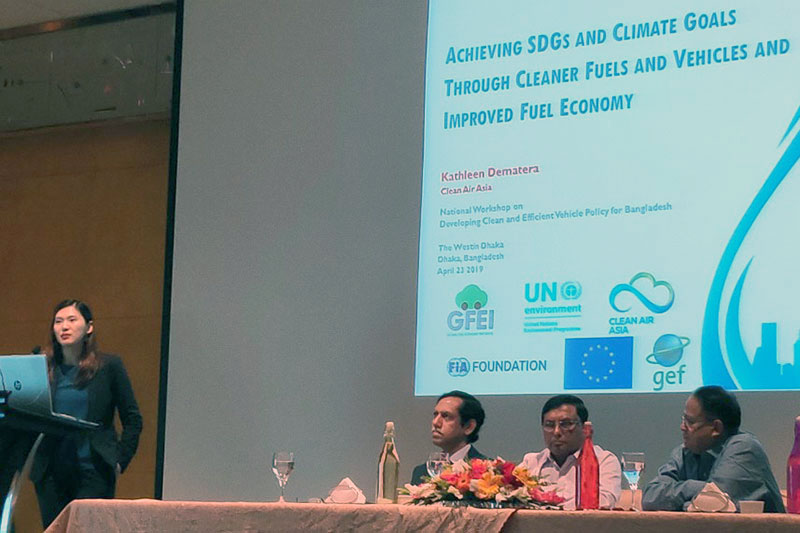 In April 2019, GFEI held a national fuel economy workshop in Dhaka, which was jointly organised by UN Environment, Clean Air Asia and the Bangladesh Road Transport Authority, Roads and Highways Department.
The event brought together leading experts working on cleaner vehicles in the region, and included presentations from senior figures from the Bangladesh Road Transport Authority, as well as GFEI partners setting out the potential for fuel economy policies to improve the efficiency of vehicles in the country.
Md Nazrul Islam, Road Transport and Highway Division Secretary and special guest at the event, said: "To achieve Vision 2021 (the target for Bangladesh becoming a middle income country), and Vision 2041 (a developed country) the introduction of clean vehicle policy for Bangladesh a priority, as other neighbouring countries such as India and Bhutan are rapidly switching to more clean vehicle technology to reduce emissions and address a public health hazard. Carbon dioxide emissions and traffic congestion are also rapidly increasing, and we will soon make a decision about policymaking in this regard.
Highways Department Chief Engineer Ebne Alam Hasan said the steps that were being taken by the Government of Bangladesh were helping the country achieve its Sustainable Development Goals and its Vision 2041 action plan.
"Bangladesh is pursuing a develop strategy of inclusive growth and development," he said. "The road sector makes a massive contribution to the country's GDP growth and the development of an efficient road transport system. The adoption of environmental technology is under consideration. Hopefully what we discuss today will be food for thought."
The analysis of vehicle fuel economy in the country showed that there are 3.8 million vehicles in Bangladesh, the majority of which are motorcycles. 90% of passenger cars in Bangladesh are Toyotas, and the data shows that the average fuel economy in Bangladesh has improved from 8.98 l/100km in 2005 to 6.9 in 2017. "From 2005 to 2017, there was a 23.16 percent improvement in fuel economy and a 24.46 percent reduction in CO2 emissions," Noor E Alam, Superintending Engineer, from the Roads and Highways Department, said. "In recent years, the importing of jeeps with improved fuel economy has increased in the LDV category and is one of the main reasons for better fuel economy value together with the advanced technology present in imported vehicles."
He said Bangladesh had improved its average fuel economy compared with global and non-OECD country averages: "In the year 2015, the non-OECD and global average fuel economy was 7.90 l/100km and 7.6 l/100km, whereas it was 7.07 l/100km."
As Bangladesh does not have a vehicle manufacturing industry, the overwhelming majority of vehicles are imported - the country has an existing restriction that prohibits vehicles older than 5 years of age being imported. Taxes are currently based on engine size, with reductions for hybrid vehicles. Stakeholders discussed the findings and explored possible policy instruments to improve fuel economy further in the country, including supporting electric vehicles.
Presentations:
Achieving SDGs and Climate Goals through Cleaner Fuels Vehicles and Improved Fuel Economy – Kathleen Dematera, Clean Air Asia
Baseline survey and Trend analysis of LDV in Bangladesh - Noor E Alam, Roads and Highways Department
Proposed Clean and Efficient Vehicle Policies for Bangladesh - Bangladesh University of Engineering and Technology (BUET) Automobile Club
Developing Clean and Efficient Vehicle Policy for Bangladesh - Noor E Alam, Superintending Engineer, Roads and Highways Department
Policy instruments to improve fuel economy of vehicles Alvin Mejia, Clean Air Asia
Leveraging Vehicle Import Policy Bangladesh to Improve Vehicle Stock: Impact, Lesson and next Step - Sitangshu Shekhar Biswas, Bangladesh Road Transport Authority (BRTA)