Vehicle efficiency under spotlight in Brazil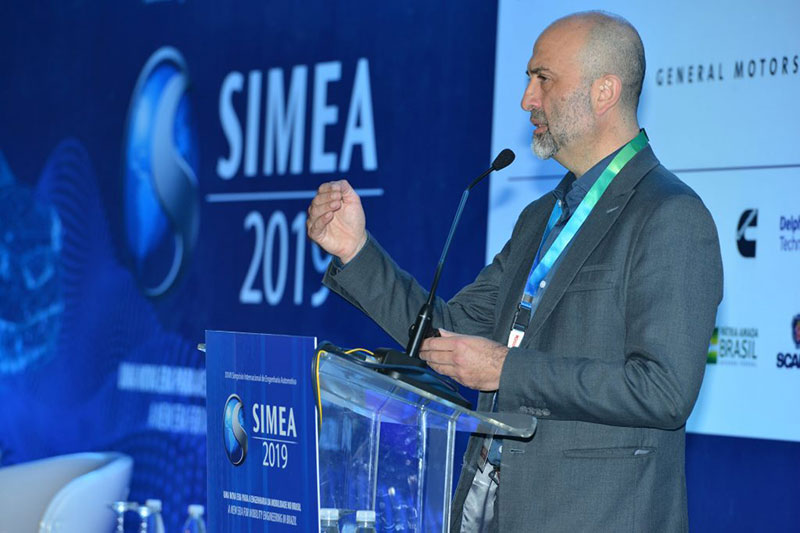 The Global Fuel Economy Initiative took part in the 27th International Symposium of Automotive Engineering (SIMEA) in Brazil on 21st August 2019, represented by Gianni Lopez, Director of GFEI partner Centro Mario Molina Chile. Mr Lopez gave a presentation on the 'World Mobility Efficiency Challenge', emphasising the urgency of climate action to reduce emissions - including the rapid transition to more efficient and electric vehicles.
The presentation drew on GFEI's most recent working paper that shows that improving the energy efficiency of internal combustion vehicles and accelerating the transition to electric vehicles could achieve nearly 60% of the reductions necessary to stay below a 1.5 degree temperature rise target by 2050.
Brazil currently has a vehicle fuel economy label, efficiency standards and fiscal incentives, although its targets are not currently as ambitious or comprehensive as many other countries. Brazil has a policy called ROTA 2030 that was adopted last year which covers three main chapters: vehicle market regulations (safety and energy efficiency), incentives and priority programs. Energy efficiency is already decided up to 2022 (aiming for an 11% of improvement over 2017) but there is currently discussion over the target for 2030, which will consider a minimum overall requirement and two more advanced targets called "challenge targets".
The Latin American region needs to speed up the transition to more efficient internal combustion vehicles and to battery electric vehicles, particularly as electricity in the region is relatively clean. Energy efficiency technology deployment at a 3 to 5% annual rate of improvement over the next decade for passenger cars, commercial trucks and buses is necessary to achieve GFEI's emissions reductions trajectory.
GFEI partners UN Environment and the International Council on Clean Transportation have been working closely with Centro Mario Molina for many years to provide support to Latin American countries looking to reduce emissions from transport.