Fuel economy targets in India: Manufacturers making progress, but could standards be tighter?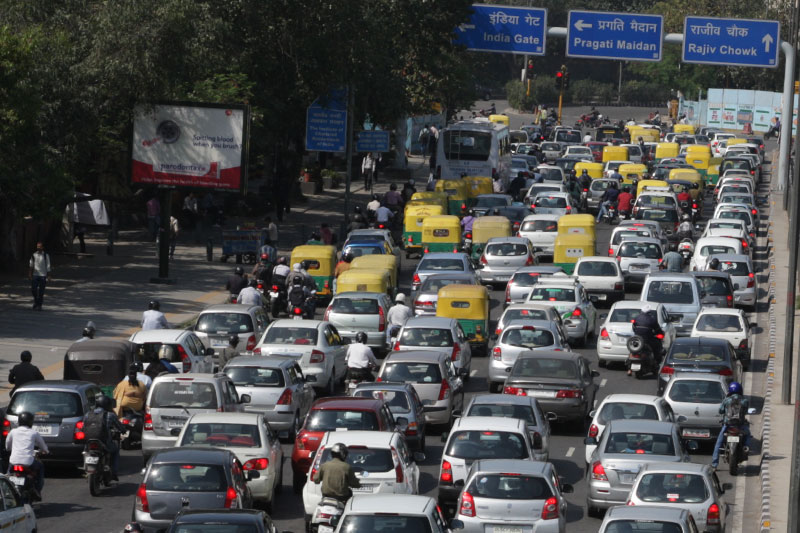 A new paper by GFEI partner ICCT examines the fuel economy of India's vehicle fleet, assessing the fuel consumption by manufacturer against current standards and evaluating their readiness to meet tighter requirements that will come into place in 2022-23. It shows that automakers are making great strides towards meeting these new fuel economy standards, although the Indian targets allow higher levels of emissions than the EU 2021 standards.
India is the fifth-largest passenger vehicle market in the world, with 3.4 million sales in 2018-19. In 2015, the government of India established corporate average fuel consumption standards for passenger cars. The standards take effect in two phases—the first targets began in 2017–18 and the second are planned to begin 2022–23. Fuel consumption is measured as grams of carbon dioxide (CO2) emissions per kilometer (g/km) during vehicle type approval. The standard includes some flexibility mechanisms that aim to reduce compliance costs and foster innovation, by giving special credits for zero-emission vehicles and for using certain technologies.
In 2018-19, 37% of the new vehicles sold in India were diesel vehicles (a 4.4% fall in market share on the year before) and 63% were gasoline vehicles. The market share of electric vehicles has remained fairly stagnant over the past decade at about 0.06%, while the market share of compressed natural gas (CNG) vehicles has decreased from 1.7% to 0.1%.The passenger car fleet in India has traditionally been lighter and less powerful than fleets in most other major markets. The market share of SUVs has increased in the last decade from around 20% to now being around 30%. In terms of manufacturers, Maruti has the largest market share with 50.6% of sales, with Hyundai the next largest with 16%.
Over the past decade average CO2 emissions have decreased 1.4% a year while average curb weight rose 0.5% annually. In 2017–18, the fleet dropped significantly in curb weight, mainly due to a decrease in the market share of diesel vehicles. The sales-weighted industry average CO2 emissions in 2018–19 from new passenger cars in India was 121.9 g/km with a fleet average curb weight of 1,078 kg. The fleet target was 132.5 g/km and the fleet met the target with a margin of 8%.

The report also considers how well each manufacturer is doing in meeting the targets. Most average emissions (shown by the dots) by manufacturer and within annual the boundaries of different standards, once additional flexibility mechanisms are taken into account. Isuzu and Jaguar Land Rover do not currently meet compliance targets; however, they qualify as small-volume manufacturers with total sales fewer than 5,000 units per year that are subject to an exemption. Flexibility mechanisms give additional credits for a vehicle using new technologies. For the purpose of calculating the corporate fleet average CO2 emissions, a Battery Electric Vehicle counts as three vehicles, a Plug in Hybrid Electric Vehicle counts as 2.5 vehicles, and a strong Hybrid Electric Vehicle counts as two vehicles. Mahindra met its compliance target through sales of electric vehicles – it sold 1,623 of these in 2018-19, accounting for 0.6% of total sales, the highest in the country.

2018–19 was the first year for manufacturers to move toward 2022–23 fuel consumption standards for new passenger vehicles in India. The 2018–19 average of 121.9 g/km is 9.8% higher than the target of 109.9 g/km in 2022–23. To bridge the gap in the next 4 years, the industry needs to reduce fuel consumption by approximately 2.55% each year. As manufacturers have already made significant progress toward compliance with 2022–23 standards, ICCT also suggest that India should look to adopt more stringent emissions standards in subsequent years, moving closer towards the level of EU standards.