GFEI shares new perspectives on EVs and vehicle emissions at ITF, Leipzig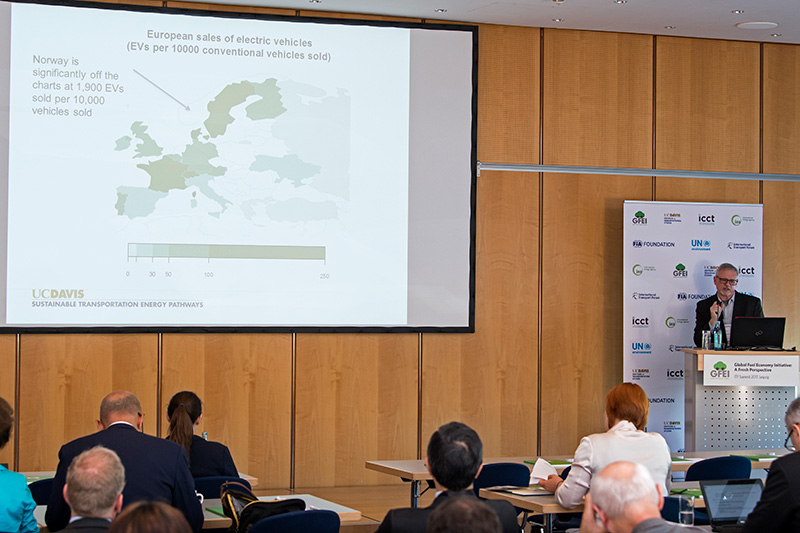 The Global Fuel Economy Initiative (GFEI) today shared its latest research on electric vehicles and new initiative on vehicle emissions at an official side event at the International Transport Forum (ITF) Annual Summit in Leipzig, Germany.
The annual ITF event brings together transport ministers from around the world to share policy perspectives with CEOs, heads of international organisations, thought leaders from civil society, academia, and media.
Lew Fulton, co-Director of the STEPS Centre at University of California, UC Davis (see main photo above) shared the findings of new research (GFEI working paper 16) that models potential scenarios for electric vehicle (EV) growth by 2030. The research is unique because of the scale of the dataset used (over 500 million vehicles across 39 countries over a decade), as well as because of the modelling techniques which it deploys and compares to examine the likelihood of achieving the Paris Declaration on Electro-mobility target of 100 million electric vehicles by 2030.
Overall while it appears possible to reach the 100 million target, it will be challenging and strong policies will be needed, that help make EVs affordable, increase the numbers of makes/models offered, and increase the awareness of and interest by consumers in purchasing these vehicles. Lew Fulton said "It is a very heavy lift to hit the target identified as part of Paris agreement, however the need for action and moving fast is very apparent."
Peter Mock, Managing Director for the International Council for Clean Transportation (ICCT) in Europe highlighted the urgent need to tackle 'excess emissions' of nitrogen oxide (NOx) from vehicles, and described the TRUE (The Real Urban Emissions initiative), which was launched with the Mayors of London and Paris in March. TRUE, a partnership of several organisations including FIA Foundation, ICCT, C40 and GlobalNCAP, will provide new analysis to inform city administrators about real-world emissions of vehicles in the light of widespread cheating on emissions tests, as exposed by the 'dieselgate' scandal. This is a particularly serious in Europe, where as many as 11,000 people who died in 2015 might have lived longer if vehicle regulations on air quality had been respected. TRUE will use large-scale remote sensing for identifying the worst offending vehicles in order to inform consumer choice, and enable evidence-policy development.
Sheila Watson, Executive Secretary of the GFEI, highlighted the important inter-relationships between the issues being discussed in the panel - fuel economy, air quality, and electric vehicles – and praised the important role that GFEI plays in generating and disseminating new knowledge and analysis from the world's leading authorities on these issues. "It really is an honour to hear experts from GFEI partner organisations share their latest analysis and insights. This information will help to inform the policy agenda around clean and efficient transport, including electric vehicles and tackling real-world emissions from diesel vehicles. Cheating on emissions is not a victimless crime, and we must act now to stop it."
Read the blog by Lew Fulton, UC Davis