GFEI high-level reception in New York screens film showcasing Jamaica as a GFEI case study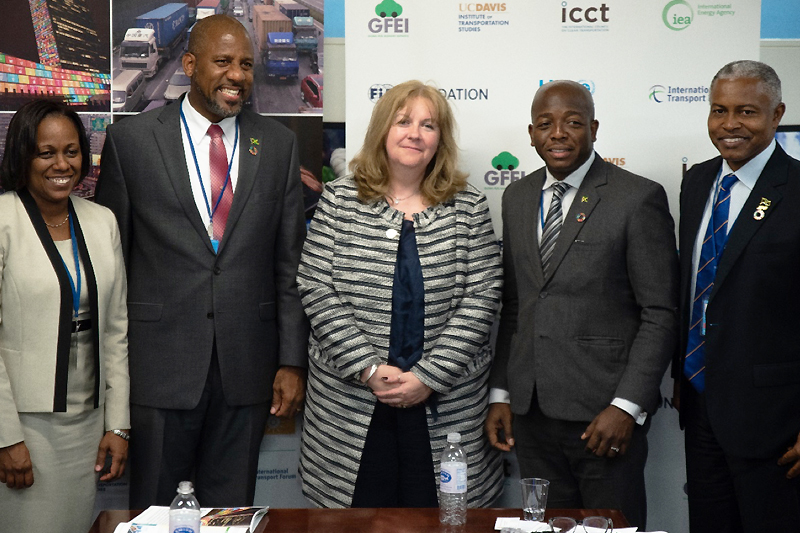 Watch 'Global Fuel Economy Initiative: Partnering with Jamaica'.
The Global Fuel Economy Initiative (GFEI) hosted a special reception during the High Level Political Forum (HLPF) in New York. The event, which was co-hosted by GFEI partner UN Environment, included an exclusive screening of a new short film that focuses on GFEI's capacity-building and policy support to Jamaica.
The event was introduced by Ligia Noronha, Director of UN Environment's Economy Division, who welcomed guests and highlighted the strategic importance of transforming mobility globally to be genuinely sustainable.
After the lights were dimmed, it was time for the premiere of the film. The short documentary captures the process that Jamaica has been through over the past couple of years, with GFEI's support, to develop a fuel economy baseline analysis of the vehicle fleet, and identify potential policy options. The film includes interviews with Jamaican government officials, and GFEI partner organisations, including the UTech Jamaica. The film will form part of the package of training tools used by GFEI in its in-country capacity building policy toolkit.
Dr Wayne Henry, Director General of the Planning Institute of Jamaica then spoke. Dr Henry has been responsible for co-ordinating Jamaica's reporting on the Sustainable Development Goals, and was able to give a unique insight into the connection between local policy change and global progress. It was an honour that several senior members of the Jamaican government were able to join the event, including Pearnal Charles Jnr, State Minister at the Ministry of Foreign Affairs and Foreign Trade, as well as representatives of the Mission of Jamaica to the UN, including H. E. Courtenay Rattray, Ambassador and Permanent Representative, and Mrs. Diedre Mills, Minister/Deputy Permanent Representative and Head of Chancery.
Finally, Sheila Watson, Executive Secretary of GFEI gave closing remarks in which she thanked Jamaica for their support. She highlighted the remarkable progress that GFEI has made since the Sustainable Development Goals were agreed in 2015. GFEI is now working with around 70 countries globally to introduce policies to improve vehicle efficiency, and there continues to be new policy change, as a result, which is outlined in GFEI's new report.
The annual HLPF meetings are a unique opportunity for countries to review their progress on achieving the Sustainable Development Goals (SDGs), and bring together Ministers and senior leaders from around the world. This year 46 countries, including Jamaica, submitted progress reports, known as 'Voluntary National Reviews'. Jamaica's review highlights the importance of fuel economy for reducing harmful emissions and costly energy consumption from transport. To mark this, GFEI commissioned a short documentary film that features interviews with key stakeholders involved in work to develop policy for cleaner more efficient vehicles.
The HLPF's Ministerial Declaration emphasises the importance of tackling vehicle emissions. It states "We call upon Governments and other stakeholders to accelerate the pace of transition towards renewable energy, especially in end-use sectors such as transport…" It goes on to highlight how "in many cities populations still breathe air that falls short of the World Health Organization air quality guidelines value for particulate matter, leading to higher rates of non-communicable diseases and increasing the risk of premature mortality," before calling for "resource efficient transport systems and new efficiencies in energy consumption".
Read the report, 'The Global Fuel Economy Initiative: Delivering Sustainable Development Goal 7'