Philippines discusses fuel economy label plans with stakeholders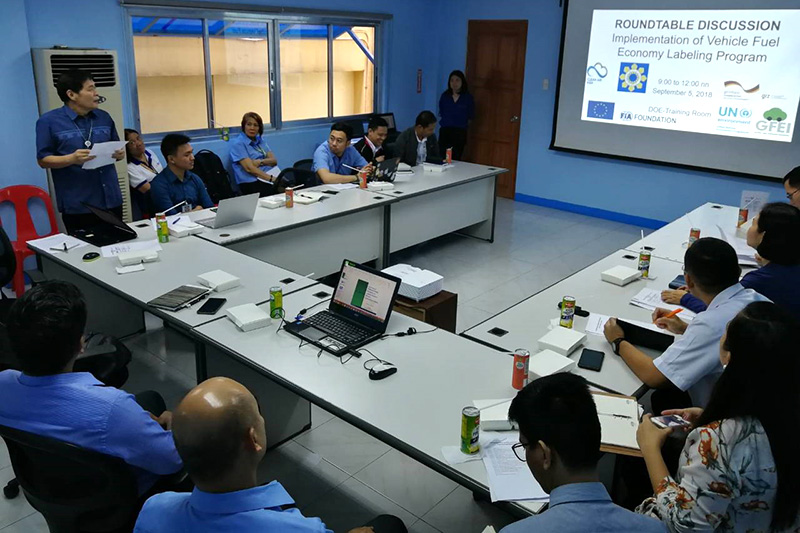 The Global Fuel Economy Initiative supported a workshop led by the Philippines Department of Energy (DoE) to discuss with private sector representatives proposed guidelines on fuel economy labelling for light duty vehicles.
The DOE invited representatives from vehicle manufacturers, importers, and dealers, together with GIZ, UN Environment and Clean Air Asia, for the roundtable discussion held in Taguig City. The event in September 2018 looked at the consolidated fuel economy guidelines which were enhanced by inputs from stakeholders who participated in the previous workshop in April 2018.
The activity began with remarks from Director Jesus Anunciacion of the Energy Utilization and Management Bureau (DOE-EUMB), who set out the aims for the Philippine Energy Standards and Labeling Program (PESLP). Art Habitan, Chief of the Energy Efficiency and Conservation Division in the Energy Utilization Management Bureau (EUMB), shared PESLP's latest implementing guidelines which are intended for energy-consuming products such as refrigerators, air conditioning units, and vehicles.
When the fuel economy labelling guidelines have been finalised, it will be included as part of the Compendium of Particular Product Requirements (PPR) of the PESLP. The DOE plans to implement the vehicle labeling policy on a voluntary basis for 1 to 2 years beginning 2019. Other key agreements during the roundtable discussion include: label contents and terminologies such as indicating combined, highway, and urban FE ratings; the process for label application and required documents by DOE; and, limiting the scope of the PPR to internal combustion engines (e.g., gasoline and diesel) and hybrid vehicles.