GFEI paving the way for electric mobility in South-East Asia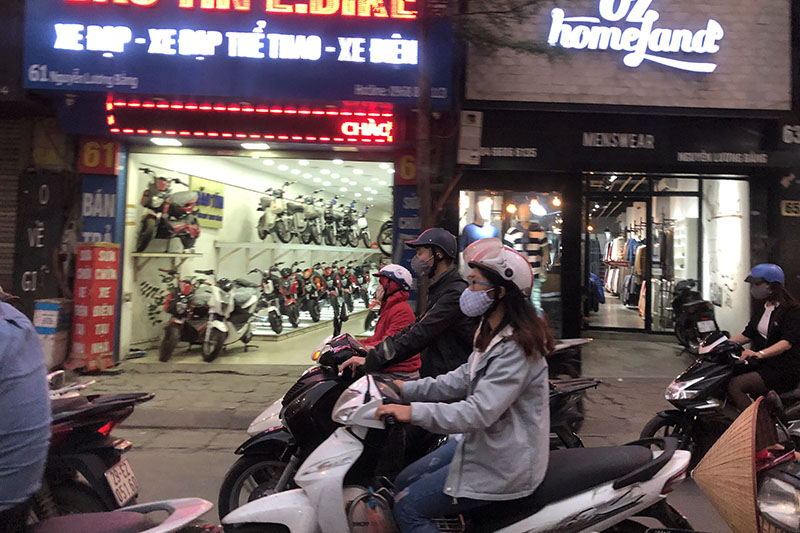 At a major intersection in Jakarta, Indonesia during a recent morning rush hour, a low rumble permeates the sticky air. Dozens of motorbikes and scooters idle impatiently at a stoplight. As the light turns green, the rumble crescendos into an ear-splitting drone as the two-wheelers accelerate away.
This scene plays out all day, every day at major intersections across South-East Asia, where motorized two-and three-wheelers, such as motorcycles, scooters and tuk-tuks, are the transport of choice for many. Over 80 per cent of households in Indonesia, Malaysia, Thailand and Viet Nam, for example, own motorcycles. In the six largest economies of the Association of Southeast Asian Nations (ASEAN), sales of motorcycles and scooters reached over 13.7 million units in 2019. Only China and India saw more sales.
But that is becoming a major problem. Along with being noisy, the mushrooming number of conventional motorcycles and scooters is driving up energy consumption, air pollution and greenhouse gas emissions.
To combat those problems, countries across South-East Asia, with support from GFEI partner the United Nations Environment Programme (UNEP), are encouraging drivers to trade in gas-guzzlers for electric motorbikes.
Huge parts of South-East Asia get around on two and three wheels. Transitioning this fleet to electric models will help reduce pollution and greenhouse gas emissions, especially when properly integrated into public transport systems.
UNEP has worked with electric vehicle associations in Malaysia, the Philippines, Singapore and Thailand to develop comprehensive recommendations for policymakers to spur the adoption of electric two- and three-wheelers.
Some of these measures include manufacturing and consumer subsidies, tax and insurance adjustments for electric and more pollutive vehicles and mandating fuel economy standards and consumption limits.
Countries in the region have made headway with some of these measures. Thailand, for example, is aiming to produce 53,000 electric motorcycles by 2025 and is planning a trade-in scheme to make electric vehicles cheaper. Indonesia has plans to phase-out conventional motorcycles from 2025. And Malaysia and other countries have developed extensive motorcycle-only infrastructure that encourages their uptake.
Huge parts of South-East Asia get around on two and three wheels. Transitioning this fleet to electric models will help reduce pollution and greenhouse gas emissions, especially when integrated into public transport systems.
UNEP's work on motorbikes contributes to achieving the Global Fuel Economy Initiative's targets which aim to cut CO2 emissions from motorcycles and three-wheelers by 80% by 2035 and 95% by 2050. UNEP is a founding partner of GFEI, which celebrated its 10th anniversary in 2019, and has expanded its focus from cars to include all on road vehicles, including trucks, buses and motorcycles. GFEI's work is funded by the FIA Foundation, together with others including the GEF and the European Commission, and includes FIA Foundation funded support for the International Transport Forum (ITF) and UNEP to help ASEAN countries implement a joint fuel economy roadmap.
E-bikes on a roll
The two-wheeler hits a socioeconomic sweet spot in South-East Asia. Cheaper to buy and cheaper to fuel than cars, they are ideal transport in fast-expanding cities that lack public transit and are beset by congestion. While they're popular among low- and middle-income urbanites, white-collar workers are also regularly seen whizzing through heavy traffic jams in business formal.
That ease of mobility fosters a service industry that has boomed during COVID-19. Delivery services like Grab, Go-jek and others have increased in popularity amid stay-at-home orders, while also creating employment opportunities for drivers.
Growth is only expected to increase. In a business-as-usual scenario, models show 1.5 billion motorized two- and three-wheelers will be plying global roads by 2050.
Forward-thinking policy
In addition to working with governments in South-East Asia to improve policy, UNEP has implemented several pilot programmes to demonstrate the viability of electric vehicle infrastructure.
In the Philippines, UNEP worked with Clean Air Asia, the Philippine Postal Corporation, the City of Pasig and electric vehicle manufacturer TAILG to show the potential of electric two- and three-wheelers to deliver urban freight. Upon the onset of the pandemic, these vehicles were used to deliver vital relief goods during lockdowns.
In Viet Nam, UNEP is working with the University of Transport Technology on a similar project. In March 2019, Honda Vietnam provided 50 electric scooters to the project to help identify policy and regulatory hurdles to electric vehicle adoption.
And in a large, global programme that supports both urban areas in South-East Asia and East Africa, UNEP is working with the International Climate Initiative of Germany's Federal Ministry of the Environment, Nature Conservation and Nuclear Safety (BMU) to mainstream electric mobility in these countries. Activities include studies to better understand the numbers and fuel economy of gas-powered motorized two- and three-wheelers, and an analysis of the electricity grid and potential demand of electric vehicles.
With two-wheeler sales increasing, governments will not want to play catch up on promoting and regulating electric vehicles. Forward-thinking policy decisions can ensure that they drive the shift.
This article is a version of one that first appeared on the UN Environment Programme website: Paving the way for electric mobility in South-East Asia