GFEI 'Accelerator' builds momentum for UN Climate Summit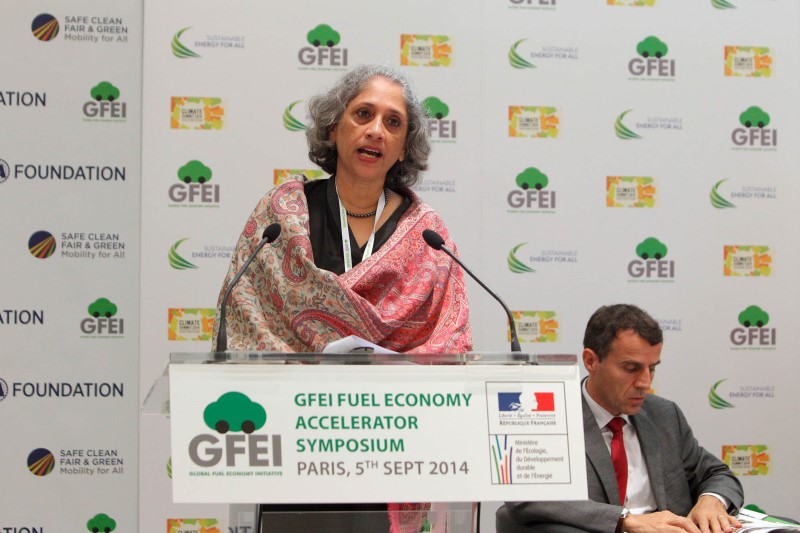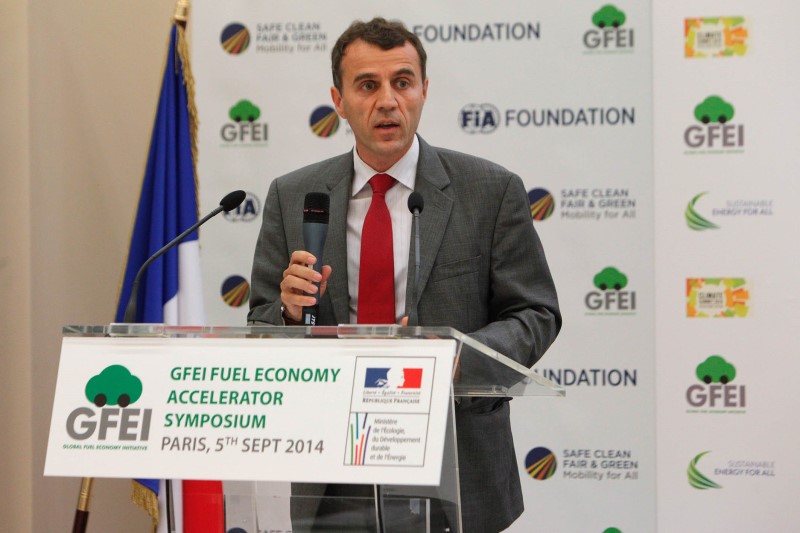 Stéphane Crouzat Conseiller diplomatique Ministère de l'écologie, du développement durable et de l'énergie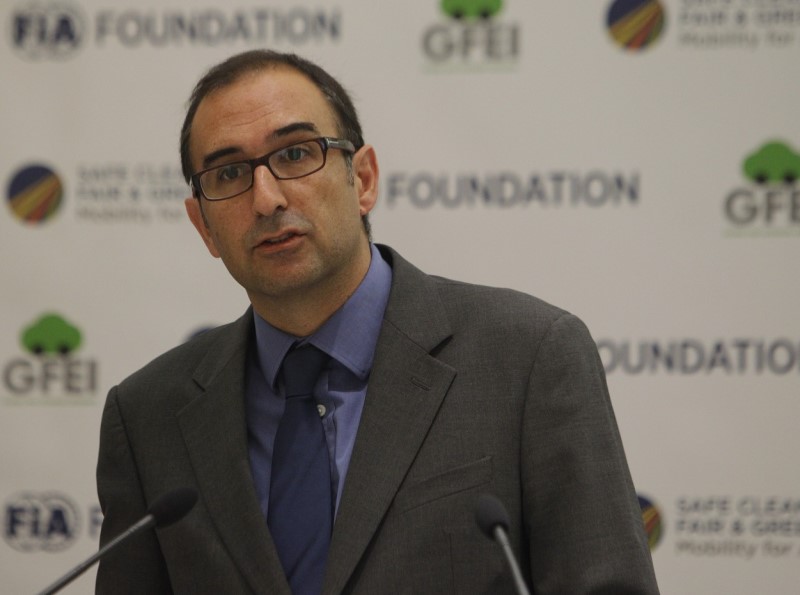 Saul Billingsley Director General FIA Foundation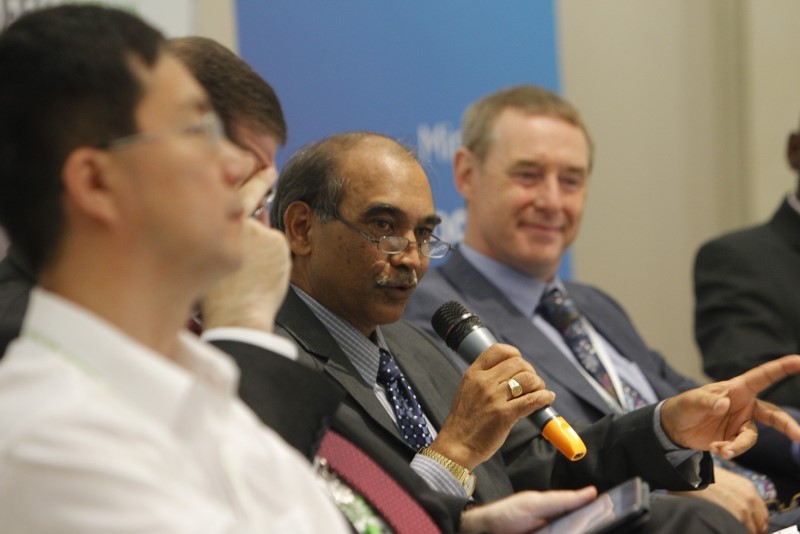 Premhans Jhugroo, Permanent Secretary, Ministry of Environment and Sustainable Development, Mauritius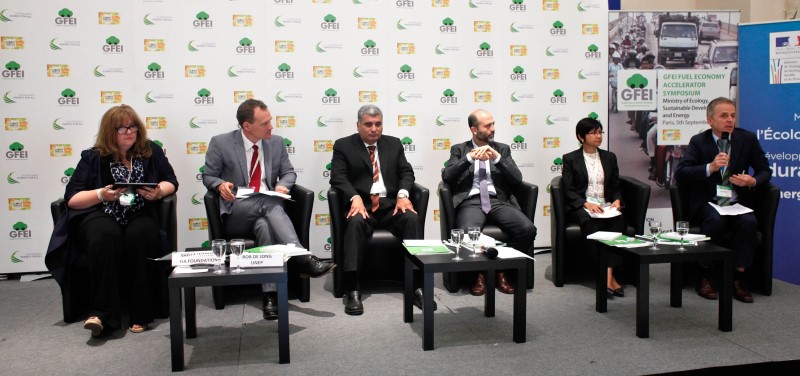 Panellists Sheila Watson GFEI, Rob de Jong UNEP, Hossam Allam CEDARE, Gianni Lopez Centro Mario Molina, Glynda Bathan Clean Air Asia, and Ruslan Zhechkov REC
The Global Fuel Economy Initiative (GFEI) has convened an 'Accelerator Symposium' to build momentum on fuel economy ahead of the September 2014 UN Climate Summit.
The Symposium hosted by the French Government at the Ministry of Ecology Sustainable Development and Energy on 5th September, provided a forum for countries, experts, NGOs and the private sector to advance the agenda on fuel economy globally and prepare for the UN Secretary General Ban Ki-moon's Climate Summit.
Government representatives from a wide range of countries working on fuel economy policies participated in the Symposium. Countries presenting at the Symposium included China, Georgia Kenya and Mauritius. There were more than 70 delegates attending the symposium from around the world with countries represented including Chile, Costa Rica, Hungary, Ivory Coast, Kosovo, Peru, Sri Lanka, St. Vincent and the Grenadines, the UAE, Uganda and Vietnam. Organisations included Transport & Environment, the FIA, ExxonMobil, Michelin, Renault, CEDARE, the OECD and the World Bank.
Opening the Symposium, Stéphane Crouzat Conseiller Diplomatique at the Ministry of Ecology Sustainable Development and Energy said: "The UN Climate Summit will provide an excellent opportunity to widen and speed up actions on fuel economy," he said. "Looking ahead, the French Government will host the UN Conference of the Parties (COP) Climate Summit in 2015. The Global Fuel Economy Initiative proposes a clear target consistent with the long term goal of an average global temperature increase below 2°C. The meeting here today is highly relevant in all of this, bringing partners together to work towards the goal of doubling the fuel efficiency of vehicles to 2050."
Ligia Nonronha, Director, Division of Technology, Industry and Economics, UNEP said: "Fuel efficiency is a key area in the impact opportunities that UNEP has been leading under the UN Secretary General's Sustainable Energy for All initiative. Improving the efficiency of the global vehicle fleet must be a priority. The task is just beginning but we must get everyone to speak the same language and really build momentum on the fuel economy agenda. This is one objective of the GFEI, to support countries to put in place the policies that are so crucial – these are the policies that will not only be good for a country's bottom line but for the environment as well."
Saul Billingsley, Director General of the FIA Foundation said: "It is a crucial moment to be holding a meeting of this kind. The International Energy Agency forecasts that around 400 trillion dollars will be spent on fuels and vehicles to 2050. It's vital that we ensure that this coming growth is sustainable. Fuel economy has a vital role to play. There are pressing concerns on climate change which fuel economy can address effectively and rapidly. And at the same time, there is a big health, equity and development argument for addressing fuel economy and we must ensure that we get it right."
As an important contributor to the UN's Sustainable Energy for All initiative, the GFEI plays a major role in the Global Energy Efficiency Accelerator Platform which was established to help drive action and commitments by leaders at national and sectorial level. GFEI commitments on fuel economy by governments and sectors will help move the agenda forward on energy efficiency. GFEI's work in developing toolkits, policy options, data and technical capacity are critical in this respect.
The Symposium heard from key experts on the policy challenges of fuel economy. With a tripling of the global vehicle fleet anticipated from now to 2050, the impact of such massive increases in vehicle numbers and energy demand is wholly unsustainable in terms of congestion, pollution and health; in terms of energy supply and therefore energy security; in terms of the costs to individuals and countries as resources become increasingly scarce; and in terms of CO2 and the climate.
Delegates discussed the need to make immediate improvements on fuel economy particularly where action has fallen short on aspects of the GFEI targets.
The Symposium heard how improvements in fuel economy could save $2 trillion net in un-used fuel by 2030 alone. These are resources which are desperately needed elsewhere – in schools and hospitals, or to support new technologies such as electric vehicles. Moreover, billions of barrels of oil could be saved with reductions of up to 1 gigatonnes of CO2 per year from 2030, and up to 2 gigatonnes from 2050.
Sheila Watson, FIA Foundation Director of Environment and GFEI Executive Secretary said: "This Symposium was an important opportunity to build support for action on global fuel economy and it comes at a crucial point in the policy process ahead of the UN Climate Summit and the Conference of the Parties (COP) process hosted in Peru this year and France in 2015. As we move on with this process, we're sending a powerful message and we seeing the start of a move towards good progress on the GFEI agenda in doubling fuel economy globally."
The UN Secretary General's Climate Change Summit will be held in New York on 23 September with the GFEI participating in a main panel on energy efficiency.
Visit the UN's Sustainable Energy for All initiative at http://www.se4all.org/
Follow the global fuel economy discussions on twitter at #fuelecon2030
Download the Presentations