GFEI sets unique new vehicle decarbonisation agenda at 10-year celebration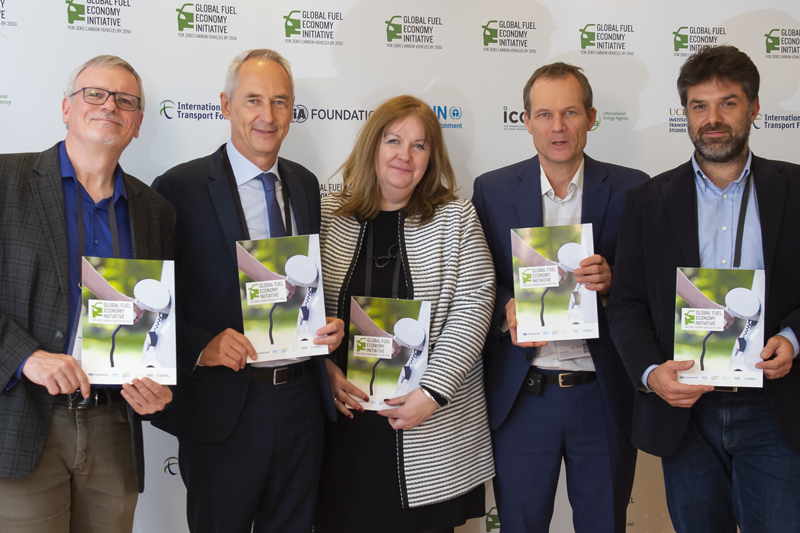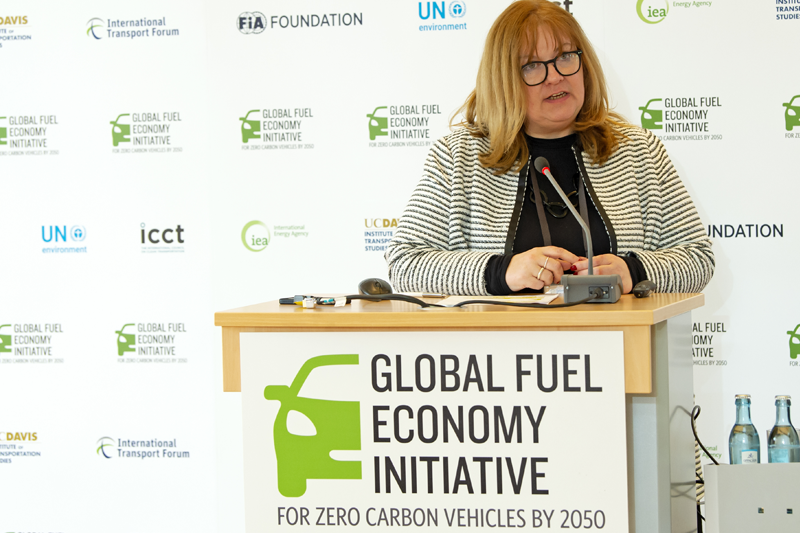 Sheila Watson, Deputy Director of the FIA Foundation and Executive Secretary of GFEI, sets out GFEI's decade of success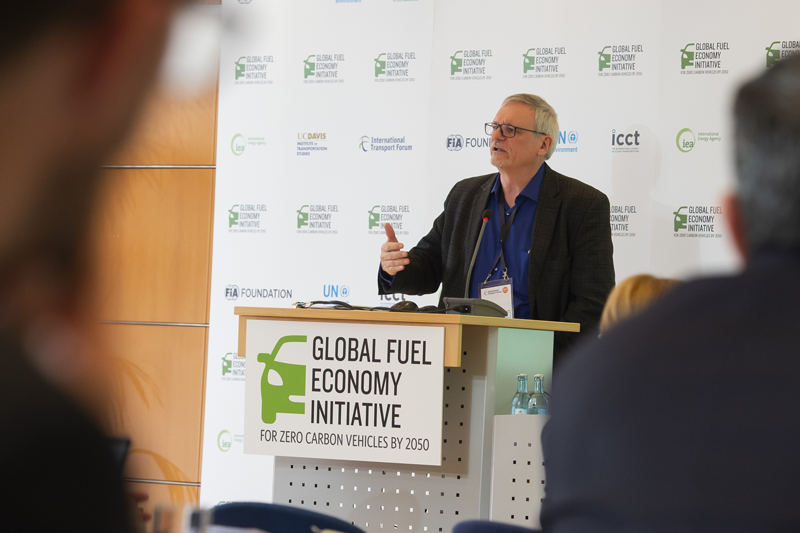 Lew Fulton of UC Davis shares new fuel efficiency targets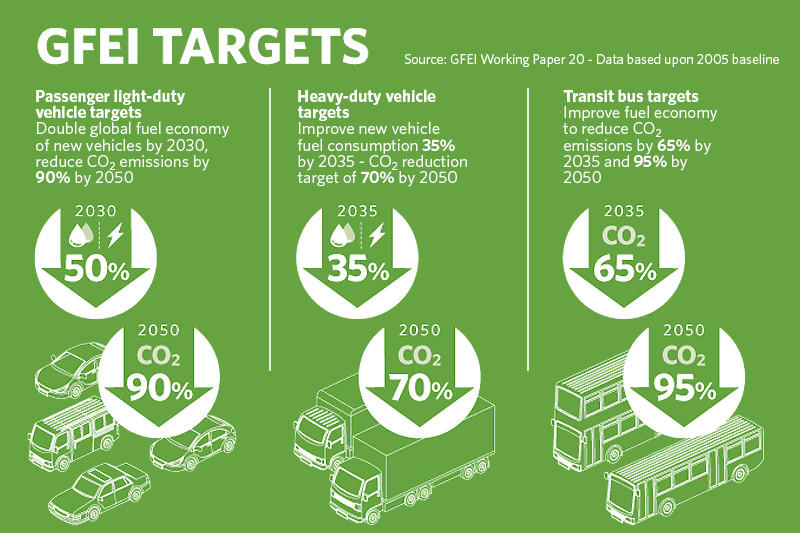 GFEI targets for passenger light-duty vehicles, heavy-duty vehicles and transit buses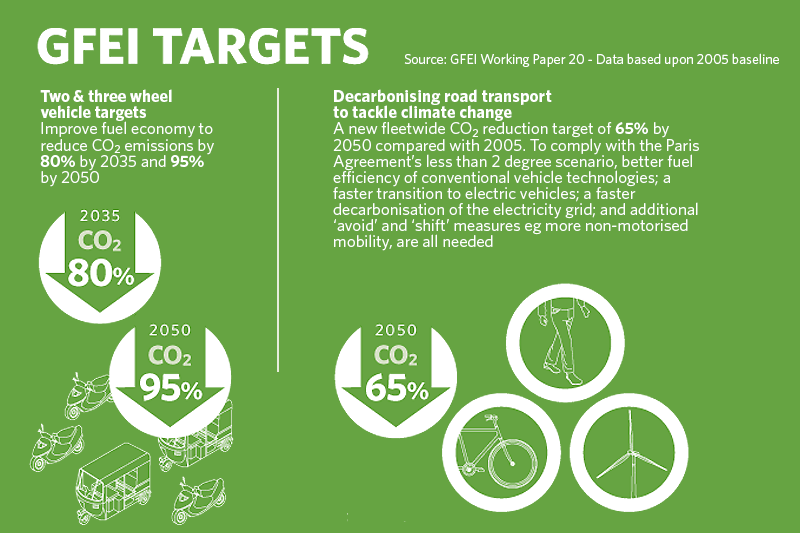 GFEI targets for two & three wheel vehicles and decarbonising road transport to tackle climate change
GFEI was re-launched at a special 10 year anniversary event at the International Transport Forum's annual conference in Leipzig, Germany on 23 May 2019. 
For the first time targets for fuel efficiency improvements were incorporated into a fuller agenda for road transport de-carbonisation targets which include the full sweep of vehicles from light- and heavy-duty vehicles (HDV) to two and three wheelers, as well as transit buses. The targets have been developed from a careful analysis, of the existing policy landscape, a broad sweep of vehicle market projections, and scenarios for energy decarbonisation, and all within the context of the dual challenges of climate change and increasingly poor urban air pollution. 
Sheila Watson, Deputy Director of the FIA Foundation and Executive Secretary of GFEI, spoke of the successes and impact of GFEI in its first ten years before introducing presentations reviewing the global trends and GFEI's specific contributions by Pierpaolo Cazzola from the International Energy Association, and Rob de Jong of UN Environment. She went on to described the key representatives as "the pre-eminent global experts in the field of vehicle efficiency, energy demand and supply, and regulatory frameworks." 
Lew Fulton of UC Davis reaffirmed existing targets to double fuel economy of new passenger light-duty vehicles (PLDV) globally by 2030, through continued progress on combustion engine efficiency improvements and the introduction of electric passenger vehicles. He also described the context for new per kilometre CO2 emissions reduction targets of 70% by 2050 for HDVs, 95% for two and three wheelers, and a transit bus target of 65% by 2035 rising to 95% by 2050. Further details of the targets can be found here. 
GFEI was also delighted to welcome the senior leaders of the GFEI partner agencies, including Young Tae Kim, Secretary-General of the International Transport Forum (ITF), Professor Dan Sperling, founding Director of the Institute of Transportation Studies at the University of California, Davis (UC Davis), and Saul Billingsley, Executive Director of the FIA Foundation, who spoke of the successes of GFEI over the past decade, and reaffirmed their commitment to GFEI and its new agenda. Professor Sperling endorsed GFEI's work as central to the mission of UC Davis agenda for low-carbon mobility. Saul Billingsley celebrated GFEI's huge impact, through its combination of very practical work with 70 countries, its world-leading research, and its impactful advocacy which, for example, saw fuel efficiency embedded in the United Nations' Sustainable Development Goal 7. 
Finally, Young Tae Kim concluded that GFEI represented the 'spirit of connectivity', bringing together a range of disciplines to be an effective and influential partnership.
Presentations:
Pierpaolo Cazzola, IEA - 'The Fuel Economy State of play'
Lew Fulton, ITS Davis - 'The background to GFEI's new targets with a focus on electrification'